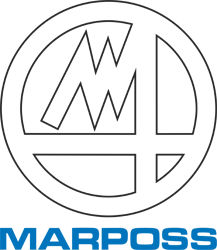 AS SEEN IN MODERN MACHINE SHOP
FEATURE STORY
Digital technology that enables tool changes to be triggered by data-driven predictions of tool wear rather than part counts also is opening the door to other opportunities for optimizing production. A look at in-the-field applications shows that advanced tool monitoring is a step toward plant-wide digitalization.
Marposs has updated its software for Optoquick and Optoflash with a smart-search function for viewing results, as well as a user-friendly interface.
Marposs' Artic CTM Toll and Process Monitoring System facilitated an award-winning process for Ford that improved tool life by 30 to 80 percent.
Marposs' Minimicromar3 provides precise measurement for small surfaces. It is also highly durable against coolant and abrasive substances.
Trade Names offered by Marposs Corp.
AMA, advanced measuring armset

Artis Brankamp machine monitoring

BLU one cable control network

DigiCrown digital measuring network

E9066 industrial computer

Easy Box, interface box

EddyFlex NDT testing

Fenar grinder gauge head

Gage Box modular data acquisition system

iWave2 wireless handle

Laser 75P tool verification system
M1 Star EBG (Electronic Bore Gauge)

M1 Wave wireless bore gauge

M1Star MBG (Mechanical Bore Gauge)

M2 Wave Wireless Electronic Snap Gauge

M3 Star Slim Snap Gauge

Merlin gauge computer

Merlin Mobile wrist-mounted Gauge Computer

Mida Diamond

Mida OGP70 optical spindle probe

Mida ORI optical receiver

Mida Probes
Mida WRS (World Radio System)

Nemo compact gauge computer

Optoquick Set optoelectronic gauge

Quick Block universal measuring armset

Quick Read microcolumn measurement display

Quick Set retoolable gauge system for shafts

Quick Snap retoolable manual snap gauge

Quick SPC statistical process control software

Red Crown pencil probe

Unimar in process grinder gauge