Speedgrip Chuck Company
2000 Industrial Parkway
Elkhart, IN 46516 US
Cameron Hydraulic Chucks & Arbors
When designing workholding to grip the part requiring closer tolerances, our hydraulic chucks and arbors with standard .0002 T.I. R. are offered for a wide variety of applications.
Using the patented Cameron technology, a thin slotted shell along with an inner liner is expanded using hydraulic fluid. Provide a fast acting, powerful grip with unusual flexibility for greater expansion than many other types.
Custom designed for a specific application, to grip internal or external, small and large diameters, manual or power actuated, mounts on spindles, machine tables, fixtures, and more.
Although excellent for inspection, are also used for turning, grinding, and drill / milling applications.
Our hydraulic chucks will grip long cylindrical parts (multiple sleeves), multiple parts or multiple diameters simultaneously. Can accommodate families of parts with various gripping diameters using slotted slave collets.
Our engineers will design workholding to grip your parts, for a specific machine, operation (s) with many other features, to run parts as effective and efficiently as possible.
Our engineers have earned the reputation for offering:
Engineered Solutions for your Precision Workholding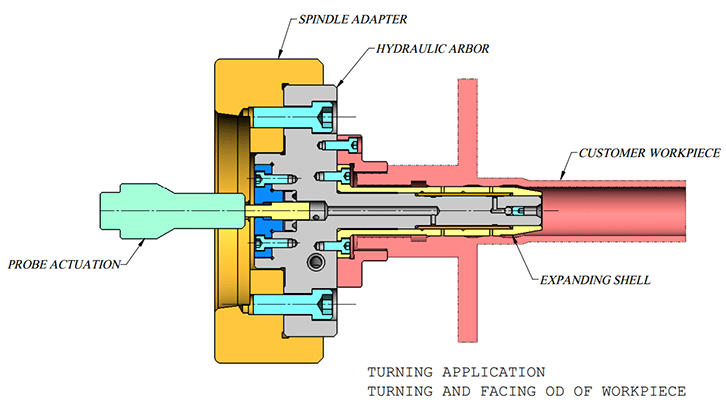 A Message from Speedgrip Chuck Company
As Seen In Modern Machine Shop
Speedgrip Chuck Co. Appoints New Sales Representatives
In the face of retiring sales reps, the company has announced two new representatives covering the territories of Indiana, Michigan and Ontario.
External Collet Chuck Resists Centrifugal Force
IMTS 2018: Speedgrip's robust external collet chuck can be used for first operations and will prove to be ideal for second and subsequent operations.
Multi-Grip Collet Reduces Cycle Times, Increases Rigidity
IMTS 2018: Speedgrip's multi-grip collet is capable of gripping multiple bores simultaneously for parts that are turned, faced or bored.
Actuators, Hydraulic & Pneumatic
Arbors, Expandable Workholding
Chuck Jaws & Collets
Chucks, Collet Type (for Workholding)
Chucks, Diaphragm
Chucks, Gear
Chucks, Precision
Chucks, Self-Contained
Chucks, Special
Collets for Workholding
Mandrels
Workholding, Custom
Trade Names
Cameron Hydraulic Chucks & Arbors
Cameron Sabertooth Mandrels
Madison Face Driver
Speedgrip Chuck Company